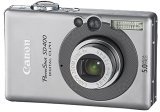 We decided to ante up for a new digicam. After much research and debate, we settled on the Canon SD400. 5 megapixels, 30fps video at 640x480 - or 60 fps at 320x240 (time limited only by the size of your card), and oh man is it small!

It's small enough to wear around your neck, and it takes SD cards. Same cards as the Treo! I can take a few shots, stick the card in my Treo, and bluetooth the pics to my Mac. Now that is cool.

So, for those of you in the market for a new all-around camera, we highly recommend this one. Many pics to come.