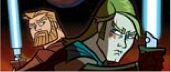 For those of you who aren't FULLY dialed in by now:

Cartoon Network has some new Star Wars: Clone Wars episodes this week.

What? You didn't catch the first 20 chapters?! And you call yourself a fan... ok, here they are.

Just check out the home page for StarWars.com. It's fully Flash-ified now. Mmm, immersive.